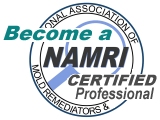 Affiliates and Links

Mold Training and Software

Professional Mold Inspection Institute (PMII)
1533 1/2 NW 2nd St, Madison, SD 57042
Phone: 1-800-983-6322

PMII offers a 90-hour online course with student manual, CD-ROM, DVD, mold testing kits, and a nationally recognized curriculum. Also includes Instant Online Access and a 30-Day Money Back Guarantee. PMII is a member of BBB-Online reliability program.

Mold Inspection Report Creator - Flexibile reporting software with a built-in intelligence system easy enough for a novice inspector, yet versatile enough for the professional.


Mold Service Companies

NAMRI Website Directory
NAMRI does not endorse or control the content of member web sites. Please contact NAMRI if you have any concerns about the listings.

Powerbees - Mold Removal, Water Damage Repair, Air Duct Cleaning and Alternative Energy Sources. Massachusetts, Florida, Rhode Island, Connecticut, New Hampshire, and Vermont.


Insurance Providers

Allen Insurance Group - Insurance for professional home inspectors.

Foundation of Real Estate Appraisers - Insurance for professional home inspectors.


NAMRI recognizes national association as follows: (1) operated on a not-for-profit basis and not as a franchise; (2) has members in more than ten states; (3) requires an accredited entrance examination; (4) requires members comply with a code of conduct; and (5) requires continuing education for ongoing membership.

Companies listed as affiliates or links below are not endorsed by NAMRI and may have paid a fee for listing.